Tuesday, August 31, 2004
Beautiful Blooms
Monday, August 30, 2004
A Thought!
While munching on chicken for lunch, I thought to myself.
What would happen if people started suing the comedy world. I am sure it is already done but, what if they sued the comedy shows on TV, so much so that there had to be warnings before and during the show or they just stopped showing comdey skit shows all together.
I like to watch comedy skit shows as it is always good to have a laugh. Some of the things they do could be deemed controversal such as the woman who goes around blaming people for sexually harrassing her when all they are doing is normal everyday things, or the fake TV ads. I think it is funny and I hope no one ever decides to try and take funny things off the air.


Updating
Today, if I get the chance, I plan on updating JAM Creativity.
I have already updated Cindy Maulkner. Cindy is always glad to have Agent M around, he keeps her mind focused and on track. (His help is often left in the comments section)

Saturday, August 28, 2004
So Proud!
I just had to tell anyone who cares to listen.
I am so proud of my girls today.
I am not sure how far it was but they went up to blockbuster and back with nil or little complaints.
The three elder started off on their bikes while I pushed bubs in the pram. Erin managed to ride at least half of the way there which was way more then I expected her to do. I expected her to give in when we reached the train station. She stuck to her guns, and rode half of the way there. Jade rode all the way there with no complaints except for once when she fell off but that didn't last long when I promised to buy her a special bandage.
Miranda went all the way there and back on her bike with no problem.
As a reward, I bought them each a bottle of water (50cents each) and some Natural Confectionry Co., lollies. These lollies were yummy and we used them as rewards on the way home as well. It helped spur on Jade when she started getting tired.
I am starting to work out the best way to achieve things with the girls. Today I learnt that in order to get Jade from point A to point B, we need to set smaller, easily achievable goals inbetween. On the ride I would use signposts, corners, cars, trees, etc to get her to ride to. Once she got past the small goals she kept going, though always stopping at a street corner.
Before the ride I was careful about how I set the rules and passed them onto the girls. I try to make my rules so that they are easy to remember and I do not use the word 'don't' in it. I say things like.."Make sure you keep me in sight", "Wait for me at street corners" etc etc.
We will do that walk again sometime, but possibly not as far and only to the park (which is about halfway there).
They did a wonderful job today and I am proud of them (and it was good exercise for me)

Note: When Erin became tired I pushed the pram with her, Merc, trike, baby bag and whatever else I had with me, in it. I am guessing this would be about 50 kgs in weight.


Just Sitting Back & Watching
I know I have been slack in updating this site and I have no excuses, so today I shall update it.

The last week or two I have been sitting back and watching (metaphorically speaking) hubby interact with the girls. Erin was and is a mummy's girl, which can be a little taxing at times so it has been a pleasure to watch her to take to her daddy more by playing, cuddling and just spending more time with him.
Erin has also taken a step forward, away from mummy, in being a bigger girl. She has less 'accidents', is wearing clothes more often (not always a good thing when it is multiple sets of clothes in a day), is saying please without prompting, hasn't cried or needed teacher interaction to stay at preschool (childcare), is just generally being more independent. She is growing up and shall be 3 in 3 short weeks time.

I have also watched Jadeen growing up. She is still a little girl but sometimes she seems so much older. Her inhibitions about leaving our side and slowly melting and she is going off to play with her friends. Yesterday, when we were at a friends' house, she didn't want to leave. She refused to budge and hubby had to carry her out to the car. It was both funny and frustrating at the same time. I believe that she will do well at any sport she chooses. She is naturally athletic but shy, which is what has held her back from fully participating in any particular sport yet.
We have tried various teachers with different dance groups (she continually expresses a desire to dance) but she has not taken a shine to any of them and would not participate fully in class. There was one class which we never got to try out because there was not enough students to make the class up so it was cancelled. It would have been a good one too as her pre-school friend would have been in it. Perhaps her and I can team up and do belly dancing together.

Miranda is growing up, not just in maturity but in height also. She is doing well at her schoolwork and now that she is able to read efficiently she can complete most of her tasks with minimal interaction from me. This will come in handy for next year when we start her sister (Jadeen). Miranda's horse riding is coming along well also. Today she did jumps which were about 2-3 inches off the ground.

Mercedes....... All I can say about her is that she is a quick learner and now you have to be careful where you put her. She can move quickly. She may only be rolling and squirming but she is quick and into things. It is time to put things up.


Wednesday, August 25, 2004
Tidbits
Last night while out shopping, we (Jade, Erin, Merc and I) wandered through the music section. We passed the cassette tapes and Jade stopped, picking up one to look at it. She asked "What's this?" She has never known a world with cassettes, records or no computers. I feel old now! LOL!

This morning Jade took out the recycling rubbish and when she came in she was carrying the empty bin on her head. It was steadied with her hands of course.



Health!


My mum's health isn't too good. High blood pressure, high cholesterol, type 2 diabetes and overweight but not obese. My grandfather (her dad) also has had a couple of minor heart attacks.
My health is good at the moment, though I do have a cough due to breathing in fish pond water while trying to syphon it this afternoon. I can still taste the sand/dirt.



Tribute to Hubby


Thanks to my main man who quite often comes to the rescue when dinner flops or I am too tired to make it. Tonight it was the meat that didn't smell quite right so i fed that to the dog and we had chicken instead.
Thanks hubby.

Tuesday, August 24, 2004
The Old & The New
Today was a day for the old and the new.
The old being a horse at the livestock pound, either awaiting an owner to pick it up, sale of to be sold for dog meat. He was a lovely old horse and at first was quiet and didn't even do too much. After a little petting and orange feeding he became more alert and wanting more attention. The horse also looked like it had lost a bit of weight as the skin was a little loose in parts but it was definitely not underweight. He was also an old horse, his muzzle and head were starting to grey as well as flecks of grey climbing across his neck, past the matted mane. The girls had a blast at being able to interact with him and feed him the orange (well watch me feed him the orange).
The new was

watching Mercedes properly roll from her back to her tummy and keep going
buying the girls some pretty underwear (they all had to put it on straight away and Erin looks so cute in her mini bra)
buying Miranda a new shirt and bike pants for Girl's Brigade
The pies we are having for dinner
The strawberries I bought today
The fact that Erin went to childcare perfectly with no complaints
The ceramic pieces the kids brought home from childcare
The huge power bill we got in the mail (not using the heater anymore)
That about sums it up.
Now all I want to do is win the lotto (gotta start playing it first), buy our dream house and all that other stuff I would like to be doing.

How was your day?
What did you get up to?


Monday, August 23, 2004
Hungry?
Soccer Dragons Vs Soccer Hubby
The Blue Sloth explains Fatherhood with The Zero Boss
Sunday, August 22, 2004
Cheats Chocolate Fondue
In a small pan, melt chocolate, cream and marshmallows. Stir until combined.
Serve with fresh strawberries, dipping bread or what ever tastes good dipped in chocolate.


Meal In A Bag
You will need either an oven proof bag (sometimes referred to as roasting bags) or alfoil.
If you use alfoil then be sure to have shiny side in so it doesn't reflect the heat but soaks it up.

In the bag/alfoil, place fish, vegetables of your choice (thinly cut), butter and seasonings.
Seal bag
Cook in a 180 Celsius oven for 30 minutes to 1 hr.
The bigger the piece of fish, the longer you will need to cook it for.
We used pan snappers (ideal for 1 serving each) and cooked them for 30 minutes but that was not long enough.
The vegetables and seasonings we used was - baby corn, mushrooms, snow peas, carrots, parsley, lemon slices, and eschallots.
It was very tasty.


Mumble Jumble
I should blog but I don't really feel like it. Lots has happened but I am not sure what to write. I will write a few things in no particular order.

My nights have been late and my mornings too early, and bubs has been waking for multiple feeds (I think she is going through a growth spurt)
Bubs has burst/grown out of her jumpsuits and is starting to get holes in the toes of her jumpsuits. Time to drag out the boxes of old clothes that I managed to keep
Merc (bubs) still isn't too fussed on rolling over but when on her stomach she will turn slow circles to get to her toys.
I decided to go to the women's conference
Thursday night we went out for dinner at 'Lone Star' and we had 2 spilt drink and 1 spilt bucket of peanut shells by Erin, 1 spilt bucket of peanut shells by hubby, chips and a slice of meat thrown to the floor by Merc. That night I was glad we ate out because it meant I did not have to clean up the mess. I was really glad about that
Yesterday, while hubby played soccer, I took 7 kids to the park and came back with 11 kids and 2 adults..
Merc got hit in the head with a football but it was only a soft hit and all she got was a fright.
Miranda came home with a friend from Sunday School.
Jadeen went over to a friends house after Sunday School.
I miss my Ja-da
I have too much F&V, so much so that I should either give it away or turn it into something which can be frozen and used at a later date
Last night I tried a recipe a friend gave me. Will fill in on that later
Erin is getting better at using the toilet
I finally gave in and bought some pull ups because I was sick of wet beds
I have a rental inspection in 2 weeks time, and I am not ready for it, but we will be ready on time
I have found the perfect present for Erin's 3rd birthday. It is a road map mat. She will be able to drive cars around on it and it will protect the carpet in her room.
I would like to do art classes and hubby says I should go and do them but I can't see the purpose of spending the money on that when it is needed elsewhere. I will just use my email art technique subscription for the moment. Plus I can't justify spending $15 a class, then $30 on babysitting and then having to juggle it around our already full schedule.
I have set myself a project of doing 24 drawings. At first I thought of setting it as 24 pics in 24 hrs but then I knew I could not do that so I set it to 24 pics in 24 days, now it is 24 pics in 24 weeks. I have done one pic so far. I just haven't had enough time to sit and draw
Why am I sitting here? I am not sure but I need to get off now and do the laundry, tidy up after lunch, chuck some capsicums and garlic in the oven, change buba, put buba to sleep, organize picking up of Ja-da, tidy up and then pick up Ja-da and finally organize dinner and hope that buba will sleep before midnight. Along with this the kids will need their hair washed, stories read and tucked into bed.

I also forgot that I will need to take out the capsicum and garlic so I can turn it into a capsicum garlic soup.

Friday, August 20, 2004
First 2004 Olympics - Miller Style
Today was a grand day, full of cheers and laughter.

Today was the day of the Miller Family Olympics. A day inspired by that thing going on over in Athens, Greece.

The first event of the day was the 'Jump'. Each contestant was made to start at the pink line and then had to jump as far as they could. A mighty jump was performed by Erin and she happily took out 3rd place. 2nd place was stolen by Jadeen in a jump that almost doubled Erin's attempts. 1st place was claimed, but only just, by Miranda.

What a competition, the crowd was excited (and stinky).

Our second event for the day was 'Kick Ball'. Each contestant had to kick the ball from the centre ring and out through the goal. If the ball missed the goal or ran over the goal posts then it was considered out. Taking out 3rd place was Miranda, but in the spirit of the game she had a ball regardless. 2nd place was stolen, just, by Erin, and 1st place was easily captured by the stunning footwork of Jadeen. That girl has some amazing footwork.

The crowd was stunned into silence (and it was feed time)

For the final event of the day, it was the bike time trials. The competitors had to do circuits which were tailored to their experience levels. This was the most exciting event and we even had a grey fuzzy streaker at one stage (dog). In 3rd place, and only one lap, was Erin with a time of 35.46 seconds. 2nd place was grasped by a corner cutting Jadeen with a time of 31.59 seconds. 1st was again grasped by Miranda in a smashing time of 28.96 seconds.

What a day, what a day. One that shall be remembered, for at least a few days.




Wednesday, August 18, 2004
Who Needs To Go To The Gym When.....
When you can walk up and down flights of stairs carrying a laden pram in one hand and a baby in the other.
Tidbit
It is winter, it is rainy (first time in at least a month), it is cold but J and Erin run around outside, naked, playing with water!


Flowers From New Farm Park
I know the pic looks a bit crowded but I blame that on the lavender.
These are a few of the flowers from New Farm Park. There were a heap more but the park was too huge and I wasn't supposed to be ignoring my family. And the day was really windy also.

Tuesday, August 17, 2004
What The!
"I'm gonna shake, shake, shake my sillies out;
Shake, shake, shake my sillies out;
I'm gonna shake, shake, shake my sillies out;
And wibble and wobble away!"

That song came into my head tonight and I do not know why. Best not to think on it, I guess.

Today, while driving, I got to thinking on what I could blog. Then I saw it! I mean, then I saw her.
I know that the 80's are in fashion again, and I really do not like it, but when I saw her, all I could think of was 'Bananarama'. From the hairstyle, to the clothes to the shoes, it was them. I had to look more then once to be sure and I missed my chance to turn the corner and get into traffic.

On the lighter side of things, well not really, I spent half of the morning in the doctors waiting room for a couple of 5 minutes consultations. One to tell me I am healing well and the other to get Merc's needle (she didn't cry but laughed). I spent the other half of the morning driving with a brief stop over at a toy outlet place to get ideas of what to get Erin for her third birthday.
Anyone have any ideas on what to get a third child for her third birthday?

Tonight, after I put the kids to bed, I heard the words 'lipstick' and 'bouncy castle' come from their room.

The dog is scared of the flea treatment I have for her. It is a spot on treatment and I haven't even opened the packet yet, but she will not come close to me despite being offered food and not having eaten since yesterday. She is the same with the camera, so you can't get pictures of her if she knows you hold that black box in your hands, unless of course you keep ahold of her collar.

It's 9.25pm and it is time to get J and Erin to bed for a third time.

Monday, August 16, 2004
She Has Us Trained Well
Merc is the ever cute baby.
She now responds better with us. She blows rasperries and if we do them back to her, she will respond with more.
She even encouraged Miranda to sponge bath her today. Jadeen and Erin even getting in on it.
Miranda, did everything but get the water ready.



Sunday, August 15, 2004
What Do You Think?
I have been told that Mercedes looks like a Cabbage Patch Doll.
What do you think?

Native Flowers
This is the bunch of native flowers I gave to Tim.

Thumbs Up!
My piece of beef turned out delicious.
It isn't dinner time and I couldn't cook it too much longer.
I received thumbs up from both Erin (almost 3) and Mercedes (6 mths)
I did a honey, dark soy and garlic marinade which it (the meat) rested in for 24hrs, in the fridge.
Then it was the slow roasting (250F = 120 celsius) but now that I think about it, 10 mins in a hot oven then the long slow cooking may have been better. It still turned out juicy and tasty though. If I get the thumbs up from any of the kids then I know it is good.
Roasting away in the oven is honey soy chicken, the kids favourite.

Dinner
Last night we had a perfect pork roast. The crackling cooked perfectly atop of the roast (first time for me) and the meat was tender and succulant. If I get around to it I will add it up here.
Tonight, thanks to Genuine, I am slow cooking a hunk of beef. Maybe it was because I only looked in the supermarket, but I couldn't find a decent sized piece of meat anywhere. So it is a small one, perfect for hubby and I. The kids are having honey soy chicken (or black chicken as we like to call it)
Just had to say thinks to Genuine for teasing my taste buds enough to try a slow roast.
Saturday, August 14, 2004
WOW!
Guess what we just had at our front door?!
We just had a wild koala there.
There is a glass section next to the front door and I could hear scratching. I was wondering what it was so I turned on the light to see what it might be.
At first I thought it was a cat, sitting with it's back to me, then it turned around and it was the unmistakable face of a koala.
I would say it was young and looking for a new habitat to live in as it wasn't as large as an adult but wasn't small enough to be still with it's mother.
How do I know this?
I used to work with koalas (only a short time, but it was still working with them)
After I called for the family, it bolted and was no where to be seen when they turned up.
A pity, as I would have liked the girls to have seen it.
That was my piece of excitement for the night.
I just hope it doesn't get into any neighbours yard which have dogs.
I do not think our dog would hurt it, she would probably bark at it and run away.

Jade just came up and told me - She has a koala scratching at her window, a purple one!

Friday, August 13, 2004
Baked Strawberry Cheesecake
For conversions to recipe


This is for the strawberry lover of the family

Ingredients
500 grams cream cheese, softened
3 eggs
300 ml cream
250 gram packet plain biscuits
125 gram butter, melted
8 sponge finger biscuits
1 punnet strawberries, washed, hulled and chopped
small dash cream sherry
4 tbsp sugar
1/4 cup water
1 tbsp lemon juice
90 grams icing sugar

Method
Strawberry Syrup

Place strawberries, sherry, sugar and water into a pan.

Bring to the boil, allowing only to boil for a couple of minutes.
Allow to cool for later use in the recipe
Cheesecake

Place biscuits in a food processor and process until fine. (Biscuits can be broken up by being placed in a plastic bag and hit with a rolling pin)
Mix melted butter with biscuit crumbs.
Press biscuit mix into the base of a springform tin and place in fridge.

In a large mixing bowl, place cream cheese, cream, lemon juice, eggs and icing sugar.
Beat mix until smooth. (electric beaters come in handy here)
Take strawberry syrup and fish out cooked strawberries, leaving behind the syrup.
Place strawberries on biscuit base
Add half of the cheese cake mix atop the strawberries
Dip sponge finger biscuits into syrup and arrange on the first layer of cheesecake
Mix half of the remaining syrup with the remaining cheesecake mix and then pour over the sponge biscuits.
Bake in a hot oven (210 degrees Celsius) for 10 minutes, then drop the temperature to 160 degrees Celsius (slow oven) for a further 45 minutes.

Serve topped with a dollop of cream and fresh strawberries.
A Slight Deviation
I had a slight deviation from my original baking plans today.
I had planned on the tiramisu, but could not find mascarpone cheese, and didn't want to put alcohol in it.
The plain cheesecake changed also.
The banana cake will have to wait till tomorrow.
The tiramisu is now a baked coffee cheesecake with a layer of sponge finger biscuits, soaked in coffee, through the middle. It is a coffee lovers delight, but I plan on dusting the top with cocoa/hot choc mix when it is done.
The strawberry cheesecake has a layer of cooked strawberries (cooked in sugar, water with a dash of cream sherry) on the biscuit base. Then there is plain cheesecake mix, followed by sponge finger biscuits soaked in strawberry syrup and finally topped with a strawberry cheesecake mix. Sound good? It looks good.
Look out for the recipes,, they will be my next post.


Time To Post The Good Stuff
I haven't needed any pain meds for 36 hrs
Jade lost a tooth the other day and was so excited when she found money and a note from the tooth fairy (Note read : Thankyou for the tooth Jadeen. Love Toothfairy)
Miranda did her schoolwork very quickly today
My room may be a mess but the rest of the house is clean (I felt I needed a comfort room this week)
Laundry is almost all caught up
Kids all slept well last night
I got to go to bed early last night
We are making cheesecake, tiramisu, and banana cake today
Hubby got paid for 2.5 days this week because he had to go up north for 2 days
I can see a tinge of green in the grass
The brown grass isn't too crunchy
My strawberry plants still live!
Tim gets home early this afternoon
I was woken up by kisses from the two year old this morning
Ummmmmmmmmmm

Thursday, August 12, 2004
Interesting!
Wednesday, August 11, 2004
Headless Chook
Tonight, after dropping hubby at the airport, the kids and I had a toilet/play stop at a highway service centre. My kids were in playing, and then another lady brought her kids into play. Kids were all playing happily for a few minutes, then her daughter hurt herself, on her nose. There was no blood, just a few tears shed.
During the tear shedding, the mother was running up and down the stairs of the playground equipment trying to get her daughter to come down. Either Jade or Erin tried to help the hurt toddler down but the mother started yelling at them not to push her and get away from her. The mother wasn't getting anywhere with her daughter (who happened to be in the highest part of the equipment) so I sent in Miranda to help her out. Again the mother yelled at Miranda to not push her and get away from her. All this time she was running up and down the steps into the equipment, trying to coax her toddler daughter down.
Miranda was a little upset by the mothers attitude to her, especially when the mother mentioned that there were bad children in there trying to push her kids. I do not think the mother realized they were mine that were in there, who were only trying to help. At the first mention of bad children, my hackles rose and I was prepared to defend myself should she say anything more. Fortunately she didn't and I was able to calmly explain to Miranda that the mother was only anxious over her daughter and she didn't understand we were only trying to help.
The father though, was relaxed and never said a word and even left the kids to play by themselves for a few minutes.
Once we left, things resumed to normal within our car and we headed off home and the girls were rewarded for playing nicely also.


Resting
I am doing just this.
Today we have a babysitter over to help watch the kids. So far Jade and Erin are running around the backyard somewhere, the bubs is happy with her position and Miranda is busy making cupcakes with Shannon (babysitter)
I am busy blogging, doing creative stuff and most of all, staying still.
My tummy is still sore and tender to the touch, but it is way better then yesterday.
Yesterday it felt like really bad cramps, worse then I have ever experienced.
Today is better and now I am going to go work on my creative to-do list.


Tuesday, August 10, 2004
THANKYOU HUBBY!
Incoherent Ramblings Take 2
Ok, I wrote this up before but for some reason, blogger just wouldn't post it.
My day started early, 6am infact. Though, from about 3am I wasn't able to sleep that well either. Up at 6am, I had to get ready for the day, showering etc. The at 7am it was off to the hospital, after a quick stop at McD's for the kids breakfast.
Admission wasn't too bad, they asked questions, took details and did the normal stuff they are supposed to do (I think, but then I have never gone into hospital this way before) After admissions, it was upstairs to perioperative unit to wait a short 5 minutes until called. I was first on their books for the day, and for this I am thankful. I had taken along a book to read but that was almost a waste of time in itself. Perhaps I will read it tomorrow since it is my semi-holiday.
The nurse, as did other staff throughout the experience, played a game called 10 questions.
My nervousness quickly dissipated due to the friendly disposition of all the staff (despite them telling me off for drinking some water that morning)
I never knew how fashionable (not) the gowns were that they used for patients there, the pilcher type paper material pants even more humorous. Once dressed I was shown to a bed, then wheeled off for the anthetist to insert a drip into my hand and wait for the theatre to be prepped. The room was not the most exciting and that is where I spent about 10 minutes wishing I had my book to read.
Time was up and I was given the general anthestic, started feeling drowsy and lightheaded as they then moved me to the table.
Right now I wish I was in bed asleep, but as all mother know, that is impossible when baby's are awake.
Anyhow, I woke up an hour later, dizzy, shaking, tired beyond belief. Eventually I woke up enough to eat the food they provided, find out they took off the paper undies they made me wear anyhow and go back to sleep.
A short while later I was allowed to get dressed and shown to the most comfy lazy boy I have ever known. Again I was unable to read my book as I was falling asleep every second line. Time came, hubby picked me up and we did what he said in his blog.
Tomorrow I hope to be more coherent.
ni ni for now!


Home Time & Hospitals
Today went well.
I was in at 7.30am, registering my inpatient status then it was up to perioperative to wait for 5 minutes before they called my name. I had brought a book with me to read as I was expecting to have a longer wait and didn't know the side effects of a general anasethic.
I got in trouble for having a couple of mouthfuls of water in the shower that morning but that didn't stop things from happening.
After a quick game of answer 10 questions, it was time to dress in the lovely, highly fashionable, hospital attire. I had a purple gown and these 'big' green, kinda like baby pilcher, paper material pants to wear. I thought they were hilarious. I didn't feel uncomfortable at all in the clothes they gave me to wear as the nurses, doctors and anethitists were all friendly. I have never had a bad experience at this hospital.
We played the question game again when I was on the waiting bed. Then it was off to the prep room to have a drip inserted, wait for 10 mins with nothing much to stare at, then get the general shot into the drip. I remember going from the prep room and being moved to the operating table. After that, it was the land of nod (which I am starting to do now also).
woke up about an hour later, vitals checked, given lunch (t'was yummy) then I took a teeth chattering dizzy walk to get dressed.
I tried to stay awake but I couldn't read more then 2 lines before nodding off so I decided to sleep while I waited. Once I was up again it was to the comfy lazy boys and some more shut eye.
If that made sense, then.....waahoo...if it didn't, then *shrugs*
time to snoze while kids watch rugrats.
ni ni


Monday, August 09, 2004
Neutered
That's what I shall be tomorrow arvo (afternoon).
I head into the day clinic at the hospital to get my tubes snipped. So no more kids for me unless for some reason I am in those 1% who fail.
I am not nervous about the proceedure, but more concerned over how hubby will go at looking after bubs. I should be in and out within 4 hours, I hope.
Ok, enough fromme for now, time to get this place liveable while I take a semi vacation for the next 2 days.


Sunday, August 08, 2004
Rat In A Cage!
Today I felt like a rat cornered in a cage.
My husband will probably read this and wonder why we didn't talk about this. I tried to talk about it but sometimes the words just won't come out.
I felt like I was cornered, pressured and most of all, given no choice in some of the events that happened. In our church there is a women's conference coming up (in a month's time) and hubby has been at me to go. It would be a child free day, except for the baby who would have to come with me, with a chance for me to mingle and relax and possibly learn something. I do not doubt that I would learn something from it, but how much can a rat in a cage learn when it feels cornered. It is either fight or flight at this stage.
I have nothing against the conference and many people vouch for it and it runs yearly. The last time I went, I knew plenty of people there and they are all aquantances but I felt like I was on the outside looking in, it was not a comfortable experience for me and I couldn't wait for the day to end, so when Tim sliced the top of his toe off I headed on home quickly.
This year, Tim bailed me up with a brochure which already had my details filled in for me. He offered to put it in for me but I grabbed it off him and put it in my baby bag/handbag. Next, after church had finished, I was literally cornered by the event's organiser (who is a lovely woman and I wouldn't say a bad thing about her) and I couldn't escape the conversation until she got distracted by some other women leaving church. Due to my wish to flight, not fight, I totally forgot about the Sunday School parent's meeting. I took off to wait for the kids to finish their Sunday School and was bailed up by Tim again, in front of my cousin (dunno how many times removed but is easier to say cousin) and asked why I hadn't put the brochure in.
I really did not want to stay there at that point and as soon as he had gotten distracted I took off to the car to wait until sunday school was out.
Tim, if you are reading this, and you will be, I want to make my own decision if I will go to this.
I am not a people person, despite what people will tell you. I like to be my own introverted self. I am happy sitting at home communicating via the computer, because then it is my choice to communicate or not to communicate. If I do not want to talk, I can leave my MSN off.
Do not get me wrong and think I do not like talking to you people out there, I do like to talk to you. I just want some control over what I do.
I like to go out and do things, see friends and have coffee (well milkshake since I don't drink coffee). But I am not like Tim, extroverted and preferring to be out doing something then stuck at home on his lonesome. I am happy with the 2 days a week I head out to do things because the kids are at childcare, and I have even gotten over a minor fear of talking to strangers. I do not let this restrict the girls in who they talk to (unless I thik it isn't wise) because I do not want them to be too shy.
Ok I think I have said enough, and am rambling now and have revealed more then my fair share, and will probably remove this a few days after I post it, if not sooner.

What are you folks out there like? Introverted or extroverted?


Saturday, August 07, 2004
Where Does The Time Go?
Tonight, I was thinking. In the shower, which is a good place to think because you are usually alone with nil distractions (apart from the showering process).
I was thinking about how fast time goes now that I am an adult. I am still getting used to being referred to in this term even though I am 28 with 4 kids.
When I was a kid, I did so much in a day, I was up early, doing chores, getting ready for school. When it was time I would dash off to the bus stop, which happened to be just on the corner of my street (about 1 house block away), and would play around with friends while waiting for the bus. At school, we seemed to do heaps and the days were long enough to do all we needed and wanted to do things in. Come the afternoon and we would arrive home, rush our homework and disappear off with friends until it was chore time or dinner time. After dinner we had time for play, TV or more homework (the more homework being when I was in highschool). The weekends were always full of yabby catching, playing in the open stormwater drains, chasing chickens, consuming passionfruit straight from the vine without even a knife or spoon (we bit them to open them and I do that for Erin now and she thinks it is funny), playing in the cubby house, making pretend forts in the vacant block, and occasionally making the mile trip and crossing a busy road, to the shop to buy lollies.
How did I ever fit in so much? I never stayed up late, but did start the day a little earlier then I do now.
Today I only got a little tidying up done, cut out 2 small paper unicorns, did one load of washing (which didn't even make it from the washing machine), read a few blogs, made even fewer comments, posted a few blogs myself while I fed the baby, fed the baby some more, and some more, made lunch for 5 kids (4 if you don't count the baby and count the next door neighbour), fixed a few scrapes and bumps from overactive play. Anything else I did is lost in the mist of tiredness so I think I will join the bed in a few and watch the silly (but who needs serious) movie 'A Very Brady Sequel',
I wish I was a kid again, I would have so much more free time to do all the fun stuff and chores would only take half the morning to complete.
I think on this, look at my kids and know I wouldn't swap it for the world but try to fit in a little more 'me' time so I can do things like read a book, draw a picture, watch a movie, shower alone, and just relax, unwind and de-stress.



Character Introduction
Name : Amber OakShadow
Race : Elven
Sub-Race : Wood Elven
Description : Amber is a relatively young elf but her young age does not portray inexperience. With sunflecked brown hair, sea green eyes and her tanned skin crossed with tattooists ink, she hides easily among the trees in which she dwells. Her home is often found up high within the tree tops, though not the conventional 4 walls and roof, but that of a nest with which she shares with an eagle. The eagle is her companion, and quite often her eyes when she is high within the sky. She wears little so as not to hinder her movement between the trees. Quite often you would think of Tarzan and Jane should you look upon her, swinging and jumping between the branches. She is lithe, as a wood elf should be, and her knowledge of the land within which she lives is great. Put her in a city and she is like a caged animal, out of place, scared and unpredictable.


LAN
Today hubby is off to a 12 hr LAN. This does not mean he is away only for 12 hours, but about 15 hours. If you count the time it takes to pack up the PCs before he leaves then add another hour onto that. I am online because he left one PC behind, unfortunately it is not my own but it will do as the kids are busy playing with the next door neighbour, and therefore do not wish to use the PC, so far no fights.
Blogs seem to be my books as it is a lot easier to read a blog then a book during a night time feed (though they are becoming infrequent of late)
Well I have said all I am to say at the moment and shall now go visit and read other blogs while I have some free time.

Friday, August 06, 2004
Thought I Would Share
Just thought I would share this pic on here as well as on my other blog - JAM Creativity.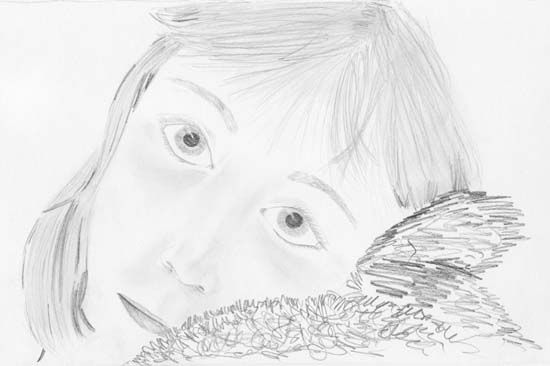 Thursday, August 05, 2004
Cindy
Poor Cindy. She is a rookie spy with all the bad jobs, such as dating the enemy, being showered in food and having cravings for chicken while being woken by a noisy rooster in the early hours of the morning.
She is searching for Agents to partake in her world of espionage, fried chicken and secrets.

Yummy
Mercedes consumed half of a gingernut cookie today. She loved every slurp of it. They say the proof is in the picture.

Wednesday, August 04, 2004
Doughnuts


Ingrediants

2 cups self raising flour
3 tbsp butter
pinch of salt (optional)
1.5 tbsp sugar
1 egg
3/4 cup milk
oil for frying

Method

Sift flour with salt into a bowl.
Rub butter through flour, with fingertips, to resemble breadcrumbs
Add in sugar, mix well.
Lightly beat egg and milk together
Gradually add egg milk mix to flour until it resembles a soft dough.
Kneed dough until smooth
Roll out dough till the thickness of a finger
Cut out with circle cutters, though you could try different shapes for varity.
Fry in heated oil until golden brown
Toss in cinnamon sugar
Dentists
Poor hubby. He had a right to be scared to go to the dentist. He had 2 fillings done today and must go in for a further 3 fillings yet. The kids teeth were good, my teeth were good, despite having to go through 2 pregnancies since my last appointment. I do, however, need to get my two top wisdom teeth pulled, when Mercedes is a little older. We all got little gifts from the dentist (toothbrush and toothpaste) and didn't pay a cent. I am glad about this as the total bill was over $700. Yay for private insurance. The kids were wonderfully behaved and we complimented them on this at lunch. Jadeen wanted to be like the dentist, Dr Myra, and was busy checking us out in the waiting room as we waited for daddy.
Oh another fact, my sister is the dentist's assistant and she is wonderful with the girls, they adore her so much.


Tuesday, August 03, 2004
Gabby
Gabby, the daughter of Angie from "It's A Wilson Thing" is currently down with chicken pox. The poor little girl has been admitted to hospital as it is on her throat and eyes.
We hope that the rest of the family doesn't come down with chicken pox and that they keep strong and healthy as they are expecting visitors very soon.
Keep strong Angie, it will soon be over.

Windows!
Yesterday, the girls were playing inside the house because it was dark outside. Next thing we knew, we heard the sound of glass breaking. Fortunately the curtains were strong enough that Miranda didn't go through it, unfortunately we now have a window to replace.
It was an accident and accidents happen, so we tried to explain it to her and I think she understood. Guess Tim will have to wait for his fish now.

Sunday, August 01, 2004
Are You Sure It Is Really Winter?
Today was a lovely spring, umm, winter day. We had temperatures reaching 23 degrees celsius (73.4 F) so while dad was at a meeting, mum decided it was a nice day to go to the beach. After church, I bumdled the kids into the car and headed to the seaside.
There was a nice breeze but it will still warm enough to enjoy the time outdoors. We had a simple lunch of chips (from a shop which way over charges) and played in the mud/sand flats.
At Sandgate, when the tide goes out, it really goes out. There is quite a distance between the park and the waters edge. I would guess at up to 100 metres in some places. The kids decided to forego lunch and headed out onto the flats for some muddy sandy fun.
It was fun watching them, but when Merc decided she was getting cold, I rounded them up and headed back to the car. Erin lightly doused herself with salt water while we were there, Miranda had a slight sprinling on her, and Jadeen rolled around, literally, in the small pools of water that dotted the flats.
Here is the evidence that winter is leaving our doorstep for at least another 10 months.